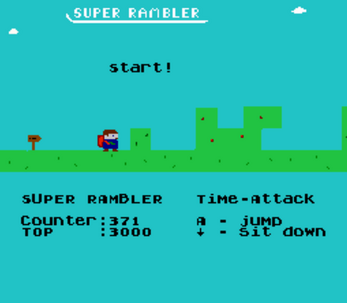 Super Rambler is a 1-level time attack game, which can be played at SNES emulators or devices via ROM file (the ROM has the NTSC region format).
Super Rambler is a time attack platforming game for the Super Nintendo Entertainment System (SNES) created by torte00.
It was one of the four entries in the 2021 SNESdev Game Jam, a contest that challenged participants to make a SNES game from scratch in just three months using publicly available resources.
The game has to be playable on real hardware and has the NTSC region format.
The game consists of a single level where the player has to jump over platforms and avoid obstacles to reach the goal as quickly as possible. The game features colorful graphics, catchy music, and smooth gameplay.
The game also keeps track of the best time and displays it on the screen.
The game is simple but fun and challenging and showcases the talent and passion of its developer.
Super Rambler is a rare example of a new game for an old console that pays tribute to the classic era of gaming. It is a testament to the enduring appeal and legacy of the SNES, which is widely regarded as one of the greatest platforms in the history of the industry.
Super Rambler is a game that deserves attention and appreciation from retro gamers and SNES fans alike.