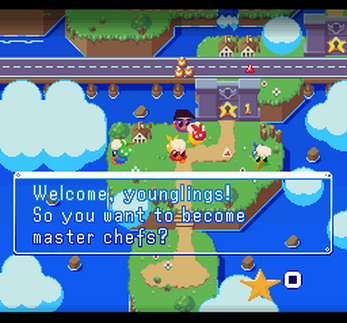 Cook your way to the top by beating eight exciting stages alone or with up to three friends in this action-packed new title for your SNES inspired by Ghost Town Games Overcooked!
Supercooked! is a new game for the Super Nintendo Entertainment System (SNES) that is inspired by the popular indie game Overcooked! by Ghost Town Games.
It was created by Goldlocke, a team of three enthusiasts who love the SNES and make games for it in their spare time.
The game is a co-op cooking adventure where you and up to three friends have to prepare and serve various dishes in eight different kitchen stages.
You have to work fast and efficiently, as the orders have a timer and you have a limited number of lives.
The game features colorful pixel art graphics, catchy music, and a lot of fun and chaos.
Supercooked! is available as a free download on this page and you can also play it online by clicking above on Start Game, or you can play it on a real SNES with a flashcart
The game was also released as a limited edition physical cartridge with 16 handcrafted copies.
If you are a fan of cooking games or retro games, you should definitely check out Supercooked! and join the quest to become master chefs!