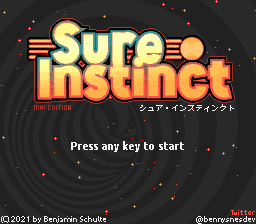 Sure Instinct is a skilled based puzzle game developed by BennySnesDev for the Super Nintendo console. The game is available as PAL and NTSC version. It is said by the developer that it took him three months to create this masterpiece. You can play the game either on a real console or using an emulator on nearly any platform you like.
The goal of the game is to steer a ball through challenging maps to the exit of each stage. Avoid falling down into the abyss or to lose your health on dangerous objects. You can collect items to reach new sections or to find secret hidden paths.​
Here is some information about the game:
Plot
The game is a skill-based puzzle game where the player has to steer a ball through challenging maps to the goal of each stage.
The player can change the perspective of the map by using a mouse or a gamepad, and interact with objects on two different sides of each map.
The player has to avoid falling into the abyss or losing health on dangerous objects and collect items to reach new sections or find hidden paths.
Gameplay
The game is a 2D top-down puzzle game with colorful graphics and Japanese vocals.
The player can control the ball with a mouse or a gamepad, and use items by pressing a button.
The player can also select items by pressing another button, and switch between two perspectives by pressing the select button.
The game has four stages: tutorial, forest, desert, and ice, each with different elements and challenges.
The game has a high score system and a timer for each stage.
Development
The game was created by BennySnesDev (game design and programming) for the SNESDEV Game Jam 2021.
The SNESDEV Game Jam 2021 was a contest to create a new game for the Super Nintendo using original assets and following certain rules and themes.
The game was made using Famicom Macro Assembler, Visual Studio Code, snippers.mod sound driver, SoundEffect Lab vocals, private code base from a JRPG project, and various free sound effects.
The game was tested on various SNES models and emulators.
Availability
The game is available as a free download on this page and you can also play it online by clicking above on Start Game.
The game can be played on any SNES emulator or flashcart on a computer or real hardware.